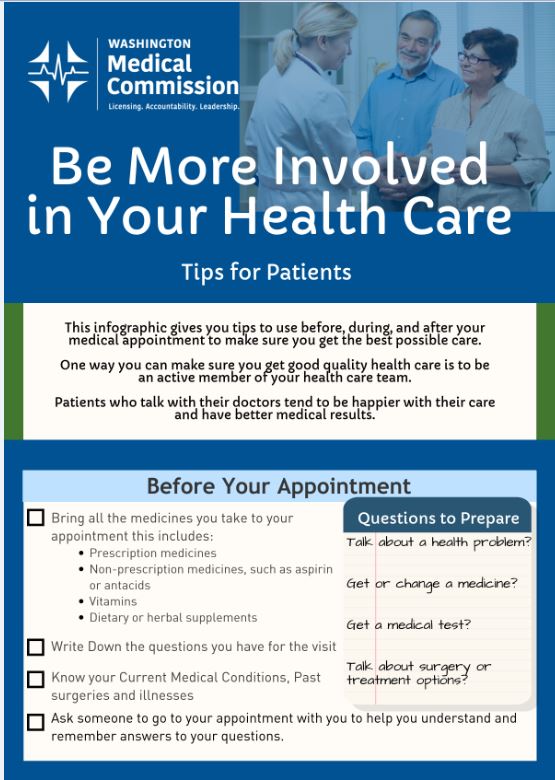 How can we help you be more informed? What resources would you like to have when visiting the doctor? The Medical Commission would like to provide resources and tools for patients to make the most of their time with their health care provider and take the confusion out of care. If you have a resource suggestion, please email medical.commission@doh.wa.gov. We are always looking for ways to serve you better.
If you would like a member of the Medical Commission to speak to your group or organization, please send us an email.  
Patient ToolKit 
Be More Involved in Your Health Care: Tips for Patients (Infographic)
Patient Rights and Responsibilities (DOC)
Question Checklist for your next visit (DOC)
How to Obtain Your Medical Records
You must send your health care provider a request for medical records in writing. If sending your request by mail, certified delivery is recommended. Your health care provider has up to 15 working days to respond to your request. For more information about access to medical records, please refer to RCW 70.02 and RCW 70.02.080.
Billing Issues 
The Commission does not have jurisdiction to investigate billing disputes.
Resources for medical billing disputes:
Contact the hospital or clinic
Contact your insurance company
Contact the Office of the Insurance Commissioner 1 (800) 562-6900
If you have Medicare, contact Medicare 1 (800) 633-4227
If you have Medicaid, contact the Washington State Office of the Attorney General's Medicaid Fraud Control Unit (360) 586-8888
Contact the Labor & Industries Health Care Provider Fraud department at (360) 902-6847 or email ProviderFraud@lni.wa.gov.