Medical Commission Thoughts
When Do Women Need a Pap and Pelvic Exam?
Diana Currie, MD
Medical Commissioner, Physician at Large
A recent survey published in JAMA Internal Medicine revealed that a large number of young women are having potentially unnecessary pelvic exams and Papanicolaou (Pap) tests. This survey and others also reveal that more than half of women don't completely understand the purpose of the pelvic exam, though the majority feel it is a reassuring indication of good health when normal[i]. The purpose of a pap test is also often misunderstood, with many women believing that a Pap test checks for some or all female cancers, rather than just cervix cancer. It seems that many people, patients and healthcare workers alike, are confused about when to do these (sometimes uncomfortable) exams[ii].
The practice of medicine changes in response to new research and new tests that become available. Healthcare providers rely upon evidence-based guidelines that are constantly modified as science advances. The pace at which information is expanding has steadily increased over the past two decades as a result of the information technology revolution. Computing power and the internet have impacted medicine every bit as much as they have impacted our social lives. For the healthcare worker on the frontline it has become a significant challenge to stay up to date on all the new guidelines that are published. This is especially true in areas of medicine where there have been drastic changes in the science and understanding of a disease. This is precisely the case with Pap tests and women's health.
Studies done in the past 10 -15 years have shown that a pelvic exam does not improve health or prevent disease in women who have no gynecologic problem
Cervix cancer is the 4th leading cause of cancer death in women worldwide but not in places such as the US where most women have access to Pap tests. The Pap test can actually find changes in the skin of the cervix before there is a cancer, unlike a mammogram for example, that finds cancer at an early stage. Pap tests saved countless lives and became an annual medical test for millions of women starting over 50 years ago. Along with the Pap test, it became standard practice to do an internal pelvic exam at the same time, thus the association between the Pap and the internal pelvic exam.
During the past 10-15 years the science of cervix cancer prevention has changed dramatically. Studies on the prevalence of cervix cancer in different age groups revealed that younger women are less likely to develop cervix cancer [iii]-[iv], so in 2009 the American College of Obstetricians & Gynecologists (ACOG) officially changed their recommendation on when to do the first Pap test in average risk women, from age 18 to age 21[v]. Our understanding of Human Papilloma Virus (HPV) as the cause of most cervix cancer grew gradually during the 1980s-90s, but widespread testing only became available in the past 10+ years. HPV and Pap "co-testing" caused major changes in the cervix cancer prevention guidelines[vi]-[vii]. During the same time frame, the new and improved liquid-based Pap technology became widely adopted. The guidelines changed because of the accuracy of the Pap test itself. Lastly, to confuse everyone even further, the HPV vaccine was developed and came on the scene during this same time[viii]. While having the vaccine does not mean a woman can skip the Pap test, it does add another novel element to a situation already in flux. Happily, we are already seeing a decrease in cervix cancer precursors among women who received this anti-cancer vaccine.
In response to all these changes, professional medical societies have issued multiple 'interim' and 'updated' cervix cancer prevention guidelines during the past decade. Just when I think I have memorized the most recent recommendation, it is usurped by another, then another. As a long time 'expert' in this particular field, I can only imagine that if I am having difficulty keeping up with all the new information, how impossible it must seem to my primary care colleagues who have to stay up to date not only on women's health but on all general health topics. It is not surprising, then, that many healthcare providers are still following older guidelines and doing routine Pap test and pelvic exams on young women.
When does a woman need a pelvic (bimanual) exam? Historically women's health providers would always do a pelvic exam at the same time as a Pap test – generally every year. Studies done in the past 10 -15 years have shown that a pelvic exam does not improve health or prevent disease in women who have no gynecologic problem. Additionally, it used to be the case that an exam was necessary before a young woman could start contraception, but many years ago ACOG recommended that women do not need a pelvic exam in order to start birth control. In the past seven years multiple medical societies including the US Preventive Services Task Force (USPSTF), American College of Physicians (ACP) and American Academy of Family Physicians (AAFP) have recommended against 'routine' pelvic exams[ix]. If a woman has a symptom, such as abnormal bleeding, pain, vaginal or bladder problems then she needs an exam, otherwise an internal exam is not necessary.
In summary, for healthy women without any gynecologic problems, a routine Pap should not be done until age 21 and then every 3 years until age 30. After age 30, if co-testing with Pap and HPV is done (and results are all normal) then testing may be done every 5 years[x]. A pelvic exam doesn't need to be done in healthy, nonpregnant women with no complaints. The recent JAMA survey reveals an understandable gap in knowledge about the many changes in women's health guidelines. Going forward it will require more widespread education of clinicians and patients, but we all have an opportunity to reduce unnecessary, uncomfortable testing, while maintaining excellent healthcare standards for women.
---
---
Protect Your Eyes This 4th of July
Jason Cheung, MD
Washington Medical Commissioner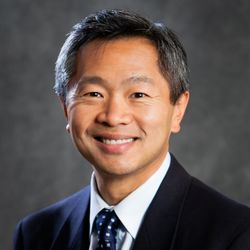 Happy Fourth!! Have you ever wondered why we commemorate Independence Day with fireworks each year? Apparently our second president, John Adams, started the tradition. In a letter to his wife Abigail on July 3, 1776, he declared that that the signing of the Declaration of Independence should be a "great anniversary festival" and "solemnized with pomp and parade, with shews, games, sports, guns, bells, bonfires and illuminations from one end of this continent to the other from this time forward forever more." The next year, the Philadelphia Congress was all over it. In the evening of July 4, 1777, the city of Philadelphia was beautifully illuminated with a grand exhibition of fireworks which began and ended with 13 rounds of rockets to symbolize the 13 states. The tradition lived on but little did John Adams know that today's fireworks can be a medical hazard. 
Firework related injuries spike each year around July Fourth. Of the 10,500 firework injuries that required treatment in the emergency rooms in 2014, as reported by The U.S. Consumer Product Safety Commission, 7,000 (67%) occurred within the one month period between June 20 to July 20, 2014. 
The hands and fingers were, not surprisingly, the most common body part to be damaged, accounting for 36% of all the injuries. The eyes, were the second most common on the hit list – a whopping 19%. The victims were mostly male (76%) and young (35% were less than 15 year old). A consortium of international studies also showed that bystanders were almost as likely (47%) to be injured as the individuals that set off the fireworks. 
The most common ocular injuries related to fireworks are corneal abrasions (42%) and eye contusions (26%). While they can be quite painful, they are fortunately temporary and patients generally recover without any long-term problems. However, life-changing permanent damage such as rupture of the eyeball, retinal detachment, chemical and thermal burns, intraocular foreign body, can occur in up to 18% of cases. 4% of fireworks-related ocular trauma required enucleation (removal of the eye) - a chilling fact for a seemingly benign summer fun. 
Firecrackers are the worst offender, causing 25% of all fireworks-related ocular injuries. They blast off in unpredictable trajectory, with an uncanny ability to land on the eyes. Sparklers can burn at 2000 degrees Fahrenheit, 10 times hotter than boiling water. Children holding them directly in front of their face are at high risk of thermal burns to their eyes. Bottle rockets and roman candles are two other types of fireworks that have a high incidence of ocular trauma.
The American Academy of Ophthalmology advises that the best way to avoid a potentially blinding fireworks injury is by attending a professional public fireworks show rather than purchasing fireworks for home use.
For those who attend professional fireworks displays and/or live in communities surrounding the shows:
Respect safety barriers at fireworks shows and view fireworks from at least 500 feet away.
Do not touch unexploded fireworks; instead, immediately contact local fire or police departments to help.
For those who decide to purchase consumer fireworks because they live in states where they are legal, the Academy recommends the following safety tips to prevent eye injuries:
Never let young children play with fireworks of any type, even sparklers.
People who handle fireworks should always wear protective eyewear that meets the parameters set by the American National Standards Institute and ensure that all bystanders are also wearing eye protection.
Leave the lighting of professional-grade fireworks to trained pyrotechnicians.
If an eye injury from fireworks occurs, remember:
Seek medical attention immediately.
Do not rub your eyes.
Do not rinse your eyes.
Do not apply pressure.
Do not remove any objects that are stuck in the eye.
Do not apply ointments or take any blood-thinning pain medications such as aspirin or ibuprofen.
Learn from history. Losing eyesight from fireworks is rather senseless. Have a safe and happy Fourth of July!
---
The Washington Medical Commission (WMC) was recently recognized for its outstanding outreach, education and patient safety efforts by the Administrators in Medicine (AIM) and the Federation of State Medical Boards (FSMB). The Administrators in Medicine, an organization comprised of the executive directors from the 70 medical boards nation-wide, selected the WMC for their "Best of Boards" award. This award honors best practices and recognizes the board for its hard work. The WMC was recognized for its work on revising the opioid prescribing rules and its public outreach work to include a new website and this consumer-oriented newsletter.
The FSMB selected three Commission individuals for awards. Amelia Boyd and Mike Farrell were selected by FSMB for their Award of Merit and Dr. Warren Howe received the John H. Clark Leadership award.
Ms. Boyd was recognized for her work on engrossed substitute House bill 1427 requiring all of the prescribing boards and commissions to create and modify rules regarding opioid prescribing for every type of pain.  Mike Farrell was recognized for his 27 years of exceptional service to the Commission in a variety of capacities. Dr. Howe was selected for his transformational leadership of the Commission as he facilitated the Commission's rebranding and outreach efforts.
---
National Health Care Decisions Day: The Importance of Advance Directives
Kathleen O'Connor, Public Member
My friend did not die and if she had it would have been a mess to sort out her affairs. Worse yet, she could have died a death in a manner she did not want or faced extreme measures she would have refused if she were conscious. She is an intelligent and lively person, and luckily has numerous friends. But she was poorly organized. She had no advance directives. Advanced directives usually come in the form of a living will or some type of written document that designates a person to make decisions if the patient is unable or unconscious. Without advance directives no one could speak for her when she could not. She could have died in ways she most feared.
I got the call from Harborview because I was listed as her emergency contact. She was stable but unconscious. The hospital needed to make care decisions. I couldn't make them legally as I was not her legal representative. I had a key to her home so I went to search for her legal records which she kept in the freezer. Nothing. Only an old address book, a birth certificate, bank account and stock records.
She is one of 63% of Americans who don't have advance directives. Without them, a person's death is in someone else's hands.
I knew what she did and didn't want in such an emergency. She was 80 and quite clear with everyone about how she wanted to die. Her only sister had died several years earlier and she was not on speaking terms with her ex-husband. They never had children. I, and several other friends, were aware of her wishes if an emergency ever happened. We were all good friends but did not pry. None of us knew anything about her legal affairs. We could not be her legal representative as we were not named. And so, while we were the best of friends, I could not speak on her behalf because neither I, nor anyone else, could legally make decisions for her if she was unable without advance directives.
I knew she wanted an autopsy and wanted to donate her body to science. I knew she did not want to be on life support. However without designating someone to handle those wishes, without advance directives, the hospital had to make those decisions. Without naming someone to be her health representative, people she did not know would make those decisions for her. Those decisions may not be the ones she would have wanted.
Luckily, my friend survived. She is one of 63% of Americans who don't have advance directives. Without them, a person's death is in someone else's hands. Decisions such as: palliative or hospice care, life support, DNR, organ donation, feeding tubes, ventilator and donating her body to medical science would be made by medical staff. Luckily she lived.
Physician offices and hospitals have advance directive forms. Medicare began reimbursing physicians for advance-care planning counseling in 2016, so advance directive can be as easy as your next checkup or you could get a health representative and complete your advance directives as soon as today. PrepareForYourCare.org has easy-to-read directives. Other organizations, such as Aging with Dignity, promote family conversations by starting with "Five Wishes" they want for the end of life.
My friend is alive and well and has an advance directive. Discuss your advance directives with your loved ones and make sure they are documented.
---
You've Come a Long Way Baby, But Still Have Further to Go!
Karen B. Domino, MD, MPH
Medical Commissioner, Physician at Large